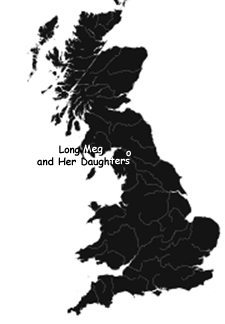 Long Meg and Her Daughters, a Bronze Age stone circle, is the third largest in England. The 59 existing stones (the Daughters) -- there were originally 70 or so -- form an oval of approximately 328 feet by 305 feet. Twenty-seven of the 59 existing stones are still standing. Long Meg is a 12 foot high block south-west from the center of the circle. There are some ring and spiral carvings on Long Meg. According to one of many legends, Long Meg and her daughters were a coven of witches turned into stones by a saint (or a powerful wizard) during their sabbath. William Wordsworth wrote "Next to Stonehenge it is beyond dispute the most notable relick that this or probably any other country contains."
The Monument Commonly Called Long Meg
A weight of Awe not easy to be borne
Fell suddenly upon my spirit, cast
From the dread bosom of the unknown past,
When first I saw that family forlorn;
Speak Thou, whose massy strength and stature scorn
The power of years - pre-eminent, and placed
Apart, to overlook the circle vast.
Speak Giant-mother! tell it to the Morn,
While she dispels the cumbrous shades of night;
Let the Moon hear, emerging from a cloud,
At whose behest uprose on British ground
That Sisterhood in hieroglyphic round
Forth-shadowing, some have deemed the infinite
The inviolable God that tames the proud.
William Wordsworth 1822
About Long Meg and Her Daughters
Megalithic Portal: Long Meg and Her Daughters
Stone Pages: Long Meg and Her Daughters
Modern Antiquarian: Long Meg and Her Daughters
Wikipedia: Long Meg and Her Daughters
Wikipedia: Stone Circle

Journey to Long Meg and Her Daughters Long Meg and Her Daughters are located off the A686 1/2 mile past Little Salkeld, which is northeast of the town of Penrith in Cumbria, England.
Streetmap UK (NGR NY571372)
Visitors Information Visitors information for Long Meg and Her Daughters may be found at the Visit Cumbria website. General tourist information for the area may be found on the The Lakes District, Cumbria website. Additional Photos of Long Meg and Her Daughters
Road Sign for Long Meg and Her Daughters Stone Circle
Long Meg, Long Meg and Her Daughters Stone Circle
Long Meg, Long Meg and Her Daughters Stone Circle
Spiral Carving on Long Meg, Long Meg and Her Daughters Stone Circle
Long Meg and Two of Her Daughters, Long Meg and Her Daughters Stone Circle
Long Meg's Daughters, Long Meg and Her Daughters Stone Circle
Long Meg's Daughters, Long Meg and Her Daughters Stone Circle
Long Meg's Daughters, Long Meg and Her Daughters Stone Circle
Long Meg's Daughters, Long Meg and Her Daughters Stone Circle