Web Resources (Alphabetical by Title)
Ancient Ireland
A "sister" site to F.J. & K.D. Schorr's main site, Irish Round Towers, designed to hold the many photos of the many ancient sites they have visited. Most pages have numerous "clickable" thumbnails producing 1024x780 versions. Included are detailed driving instructions to each site. Other sites by F.J. & K.D. Schorr: Irish Irish High Crosses, Ecclesiastical Ireland, focusing on Irish churches and abbeys, and Irish Castles.


Heritage Ireland
Many of Ireland's pre-historical and historical sites -- almost 800 as of May 2007 -- are under the care of the State.This useful site introduces you to those built heritage sites (managed, maintained, and presented by the Office of Public Works - OPW) and those natural heritage sites (managed, conserved, and presented by the National Parks & Wildlife Service - NPWS). Each site listed gives much useful information -- location, opening times, admission charges -- for visitors.


Irish Antiquities
A terrific site by a knowledgeable and informed author-photographer, Brian T. McElherron, who has visited a plethora of both early Christian and megalithic sites (and a few not so early historical sites) in all Irish counties. Included is a valuable Glossary of Architectural Terms. McElherron, who has been photographing sites since 1975, also has another great website with both early christian and megalithic sites that is worth visiting: The Stone Circle.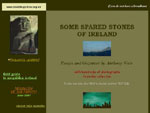 Irish Megaliths
A field guide to megalthic Ireland with photos, essays, and a gazetteer, this site has been expanded from Anthony Weir's book, Early Ireland-A Field Guide, published in 1980. The core of this site is the alphabetical county-by-county gazetteer of Irish megaliths from that book, enveloped by pages that put the types of monument into context. A useful and compact introduction to some of the thousands of fine stone monuments in Ireland, the continuing expansion of the gazetteer owes much to the indefatigable researches of (www.megalithomania.com) whose photographs contribute greatly to the website.
Megalithic Ireland
This web site features many megalithic, early ecclesiastical and fortified sites visited by the author around Ireland. The site features portal tombs, wedge tombs, court tombs, stone circles, standing stones, and passage tombs in both Ireland and Northern Ireland. The site also has special pages on ogham stones, the earliest form of writing in Ireland.




The Megalithic Portal
"Over the years," according to website creator Andy Burnham, "the project has become a major team effort with input from scores of photographers, archaeologists, locals and visitors...An overriding reason to do this is that many of these ancient sites are not protected in any way, and many have disappeared over the last 50 years or so under development and intensive agriculture. Even sites that are scheduled have limited real protection, so our mission is to document, publicise and protect these remaining sites."


Megalithics
An archive of over 5000 photos of stone circles and other megalithic monuments in the British Isles, Ireland, and Europe. Portal Dolmens, Recumbent Stone Circles, Cup and Ring Carvings, Long Barrows, Cairns, Passage Graves, Wedge Tombs, etc. Most sites have full spherical VR panoramas and infrared photography, plus ten figure map references measured on site with a GPS unit.




Megalithomania
A website with the aim "to visit every site in Ireland." It is well on its way to accomplishing its goal. See the interactive "Megalithomap" map on the website. Sites are categorized by monument tpes and by county. There is also a section called "Beyond Our Shores," for the author's visits outside of Ireland.




Stone Pages
Stone circles, dolmens, ancient standing stones, cairns, barrows, hillforts and archaeology of megalithic Europe with special pages on Scotland, England, Ireland, and Wales, among others. Created in 1996 by Paola Arosio & Diego Meozzi, the site has grown to over 4,000 pages. The authors live in Trevignano Romano, north of Rome, Italy.





Wikipedia
Wikipedia -- from wiki (a type of collaborative website) and encyclopedia -- is a multilingual, web-based, free content encyclopedia project written collaboratively by volunteers that currently ranks among the top ten most-visited websites worldwide.The vast majority of its articles can be edited by anyone with access to the Internet. Contains several hundred useful pages on specific saints, holy sites, churches, monasteries, abbeys, among others, which are most useful to this website.

Print Resources (Alphabetical by Author)
Michael Herity
Gleanncholmcille: A Guide to 5,000 Years of History in Stone
Dublin: Na Clocha Breaca, 2005 Ed.
This guide is based on a survey and analysis of the antiquities of Glencolmcille, which was begun at the invitation of Canon James McDyer in 1970. This little book covers the Glencolmcille Turas and other monuments in the area, including Malin More and Malin Beg.




Carleton Jones
The Burren and the Aran Islands: Exploring the Archaeology
Cork City: The Collins Press, 2006 ed.
An excellent well-written study of the archaeology of the Burren and the Aran Islands, including major and minor megalithic sites as well as the sites of early Christianity in these two regions. Jones, a professor of archaeology at the National University of Ireland in Galway presents in-depth accounts of each site and conveys the most current archaeological research and excavations for the reader. With 240 photos and illustrations and numerous explorer maps, this book is an indispensable guide for those exploring these two regions.




Carleton Jones
Temples of Stone: Exploring the Megalithic Tombs of Ireland
Cork City: The Collins Press, 2008
Dolmens and burial chambers dot the Irish countryside and fascinate all. Once dismissed as `rude monuments' shrouded in mystery, fresh archaeological interpretations provide new ways of understanding these ancient structures. This fully-illustrated book looks at the builders themselves, how the megaliths were created, the rituals that took place there and finally why people stopped building them. All key sites in Ireland are discussed with a list of the 100 `Sites Worth Visiting' accompanied by photos, maps, and detailed directions for visiting each site.






The Old Stones: A Field Guide to the Megalithic Sites of Britain and Ireland.
London: Watkins Publishing, 2018
The most comprehensive and thought-provoking field guide gives unparalleled insight into where to find over 1,000 of British and Irish prehistoric places in England, Scotland, and Wales and how to understand them, by drawing on the knowledge, expertise and passion of the archaeologists, theorists, photographers and stones aficionados who contribute to the world's biggest megalithic website - the Megalithic Portal. It was judged the Current Archaeology Book of the Year in 2019. A very valuable resource.









Robert Meagher and Elizabeth Parker Neave
Ancient Ireland: An Explorer's Guide
Northhampton, Massachusetts: Interlink Books, 2004
A guidebook to Ireland's spectacular antiquities -- its passage tombs, ring forts, castles, Neolithic settlements, and monastic sites, among others. Along with fascinating overviews of prehistoric, Celtic, early Christian, and early medieval times, Meagher Neave give the traveler concrete help in finding the most stunning sites that preserve and breathe that history today. Organized around three itineraries with recommendations for bed and board with a useful chapter on "Getting Acquainted with Ancient Ireland."






Cary Meehan
The Traveller's Guide to Sacred Ireland:
A Guide to the Sacred Places of Ireland, Her Legends, Folklore and People
Glastonbury, Somerset: Gothic Image Publications, 2004
This amazing book is the result of years of research of historical and archeological detail, legend and folklore, and current information on earth energies for each sacred site. Before the author's rediscoveries, most of the vast number of ancient sites were unknown or almost forgotten except by locals. Features: simple wells and stones, local pilgrimage spots, holy mountains, lakes and rivers, pre-Celtic Temples, and ancient churches and round towers.








Dara O'Maoildhia
A Pocket Guide to Arainn: Legends in the Landscape
Inishmore, Aran: Aisling Arainn, 2002 ed.
A handy pocket-size guidebook for "the questor, the searcher, the pilgrim, the spiritually hungry and those on a journey" for finding the many Celtic and Christian sites on Inishmore, Aran's largest island. Divided by the island's regions, each chapter of this valuable guide relates the myths, legends, folklore, and history of each site with many illustrations by Gay McCarron.








Steve and Lois Mowday Rabey
Celtic Journey: A Traveler's Guide to Ireland's Spiritual Legacy
New York: Citadel Press, 2001
A visit to the pre-historical -- Newgrange, Poulnabrone, Dun Aengus, among others -- and early Christian -- Glendalough, Rock of Cashel, Skellig Michael, among others -- sites in Ireland, the authors add helpful and practical information for the journey. In addition, the authors add some contemporary, quintessentially Irish locations






James Charles Roy
The Road Wet, the Wind Close: Celtic Ireland
Chester Springs, Pennsylvania: Dufour Editions, 1987
By far the best book on ancient and early Christian Ireland, this work explores early Irish history from the island's first inhabitants around 7000 B.C. to the Norman invasion of 1169 A.D. This beautifully written, highly evocative work takes an innovative approach to Irish histoy, one that is fitting for a land where the past never dies. Particularly important for its discussion of the controversies surrounding St. Patrick and the oft-neglected importance of St. Columba (Columcille).




Chris Scarre
The Megalithic Monuments of Britain and Ireland
London: Thames & Hudson, 2007
From a Professor of Prehistory at the University of Durham and a specialist in the prehistory of Western Europe, this work offers an examination of some of the most varied megalithic monuments in Europe that are found in the Britain and Ireland organized by geographical area. From the Neolithic Age and the arrival of pottery and farming some 6,000 years ago to the beginning of the Bronze Age, people used megaliths, earth, and wood to build grandiose monuments. The number and sheer diversity of these structures is astonishing, from massive stone rows and circles to barrows, chambered tombs, and earthwork enclosures. Henges and cursus monuments, which often lacked stone elements, also belong to the same general category of monumental prehistoric architecture.


Michael Slavin
The Ancient Books of Ireland
Montreal: McGill-Queen's University Press
The Ancient Books of Ireland describes precious manuscripts that have survived for centuries. Slavin reveals not only their fascinating contents but their intriguing histories. Among the most important manuscripts described are the sixth-century Cathach, the oldest Irish book in the world, which was carried into battle at the head of the O'Donnell armies of Ulster; the ninth-century Book of Armagh, which contains the earliest accounts of St. Patrick's coming to Ireland; and the eleventh-century Book of the Dun Cow, the earliest surviving copy of Ireland's most revered stories and legends, which has been held for ransom and caused the battle between the Donegal O'Donnells and the O'Connors of Connaught.


Rupert Soskin
Standing with Stones:
A Photographic Journey through Megalithic Britain and Ireland
New York: Thames & Hudson, 2009
From the southernmost tip of Cornwall to the far Scottish isles, a wonderful variety of ancient stone monuments still exists in Britain and Ireland, and this book guides the reader to over one hundred of them. Some megalithic sites, like Stonhenge and Newgrange, are well researched and often visited, while others, such as Fernworthy and Bleasdale, are barely known. From stone circles and henges to long barrows and cairns, our distant ancestors adapted and shaped their monuments to all environments, leaving us the tantalizing signs of their long-forgotten lives.





Rob Vance
Secrets of the Stones: Decoding Ireland's Lost Past
Dublin: Ashfield Press, 2009
Re-examining, redefining, and ultimately rebuilding Ireland's most iconic ancient monuments is the core mission of Secrets of the Stones. This innovative history strand sets out to separate myth from truth, find out what really happened, and to bring to life Ireland's most visionary and nationally significant sites. The book examines Ireland's pre history, the story of Ireland's first people, the early Christian period, and the international perspective - far from trailing behind Europe, it reveals Ireland to be at the forefront of visionary ways of thinking in language and culture.




Juliette Wood
The Celts: Life, Myth, and Art
London: Duncan Baird Publishers, 1998
A basic introduction to the Celts who once populated an area rivaling the Roman empire at its peak., Great photographs and graphics of the Celtic landscape and samples of their intricate artwork--from silver jewelry buried with princes to the illustrations of the Book of Kells. The book also reveals how the Celts saw the mysteries of the spirit world woven into the intricacies of the physical world like the never-ending line of the eternal knot.




Other Resources: DVDs
In Search of Ancient Ireland
DVD
This video traces the history and legends of ancient Ireland. Beginning in 2000 B.C. -- when Stone Age farmers built some of the largest and most spectacular Neolithic monuments in Europe -- the series explores events and stories from millennia of history, to 1167 A.D., when the Norman invasion placed Ireland under control of England's king. This DVD is divided into 3 parts: Pre-Christian Ireland, Missionary Era Ireland and Ireland Under the Vikings.





Standing with Stones
DVD
There are about 1,000 stone circles in the U.K. and Ireland. If you include other megalithic monuments such as stone rows, long barrows, cairns, cists, standing stones and others, the number runs to tens of thousands. Yet most people can only name one. This DVD is an exploration beyond Stonehenge, a discovery of the wealth that is Megalithic Britain. More than two years in the making, this film, written and presented by explorer and naturalist Rupert Soskin and produced and directed by Michael Bott, takes you from the tip of Cornwall to Wales, Ireland, the Isle of Man, and Scotland as far as the Outer Hebrides and Orkney on an unforgettable journey through the landscape of the ancient past.


Secrets of the Stones: Decoding Ireland's Lost Past
DVD
Episode One: Episode One: Prehistory-the Story of Ireland's First People. Ireland is unique. Isolated on the fringe of the Atlantic it was the last place in Europe to be inhabited .Yet with 150,000 ancient monuments, it holds an unprecedented record of its prehistoric past - a record that has been largely obliterated elsewhere in Europe. Now, cutting edge science is slowly peeling away layers of the secrets lost in time and rewriting Ireland's ancient story. The truth about our distant past is finally emerging. The questions themselves are remarkable: were we almost wiped out 4000 years ago in a climate change event? Why did Ireland, unlike Europe, become Christian so quickly and change religion so peacefully? Originally broadcast on RTYE Cork in 2009.