Each month this year, this website will feature a journey to take to explore the Saints and Stones of England, Scotland, Wales, and Ireland. This month's homepage features a one-day visit to the iconic stone structure in Cornwall called Men-an-Tol.
Books: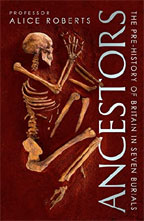 Ancestors: A History of Britain in Thirteen Burials by Alice Roberts. An extraordinary exploration of the ancestry of Britain through seven burial sites. By using new advances in genetics and taking us through important archaeological discoveries, Alice Roberts, pre-eminent archaeologist, broadcaster and academic, helps us better understand life today. We often think of Britain springing from nowhere with the arrival of the Romans. But in Ancestors, Professor Roberts explores what we can learn about the very earliest Britons - from their burial sites. Although we have very little evidence of what life was like in prehistoric times, here their stories are told through the bones and funerary offerings left behind, preserved in the ground for thousands of years. Told through seven fascinating burial sites, this groundbreaking prehistory of Britain teaches us more about ourselves and our history: how people came and wentand how we came to be on this island. One reviewer has called this work "a terrific, timely and transporting book - taking us heart, body and mind beyond history, to the fascinating truth of the prehistoric past and present." Publications: In September, this website listed the Neolithic Report by the Scottish Archaeological Research Framework (ScARF) managed by the Society of Antiquaries of Scotland the ScARF Summary Neolithic Report, a thorough look at this crucial period of Scotland's history. This month we list ScARF's Highland Archaeology Research Framework (HighARF), the culmination of a three-year project led by Archaeology for Communities in the Highlands (ARCH) to create a regional research framework for the Highland Council region. The Highland Regional ScARF covers the area of the Highland Council, the largest council area in Scotland. The area has varied topography, which has influenced settlement patterns for over 14,000 years.
Websites and Blogs: The Easiest Guide to Scotland's Archaeological Time Periods and Ages. If you would like to know more about Scotland's past, it helps to know the different time periods. This website is great for the newcomer to archaeology. This guide begins with the Paleolithic, Mesolithic, and Neolithic periods and ends with the Medieval and Post Medieval or Modern Periods. Each period gives dates, discusses artefacts to be found and lists sites to visit. Produced by Dig It!, the hub for Scottish archaeology, this website is great for newcomers and a handy refresher for those more familiar with Scottish archaeology. Podcasts: History Extra: The Dark Ages: A 'Black Hole' in Britain's History. Max Adams discusses his book The First Kingdom, Britain in the Age of Arthur, which pieces together the evidence to uncover what happened after the fall of Roman Britain. He explains some of the current theories about the era 400-600 AD, and why Arthurian myths have proven so popular. Organizations: Cornwall has amongst the largest collection of nationally protected heritage sites of any county in Britain, with more than 1,340 Scheduled Monuments, more than 12,500 Listed Buildings, 145 Conservation Areas, 37 Registered Parks and Gardens, 2 Registered Battlefields, 8 Designated Wrecks and the Cornish Mining World Heritage Site. The Cornish Cornwall Archaeological Society seeks to identify new archaeological sites through survey and excavations, record sites, monuments and buildings in the field as part of one off or long term projects, protect sites, monuments and buildings through co-operation with landowners, Historic England and Cornwall Council, conserve archaeological monuments through active management work on site, monitor the condition of our monuments through field visits, and help fund archaeological research projects in the county by awarding grants, among other pursuits.
Art-Photography: The Arbroath Tapestry is an intricate embroidered three-panel tapestry created by Angus embroidery and textile artists to commemorate the 700th anniversary of the Declaration of Arbroath and the history and heritage of Arbroath Abbey. The embroidered tapestry is permanently displayed in the Arbroath Abbey visitor center. Arbroath Tapestry is an extraordinary wonderfully crafted work made by the Arbroath Tapestry Group, a group of highly skilled Angus women. The Arbroath Tapestry has been designed by Scottish artist Andrew Crummy, designer of the Great Tapestry of Scotland. Inspired by the Great Tapestry of Scotland, the embroidery artists aspired to create a tapestry which gave greater prominence to the Declaration and placed the history of Arbroath and its Abbey at the forefront. Videos: The Prehistory Guys interview Professor Alice Roberts, who discusses the many facets of her body of work including her latest book, Ancestors: A History of Britain in Thirteen Burials. This interview is included especially for Guido, one of our website's frequent visitors, who greatly admires the talented Professor Roberts and her work. Note: Many Youtube videos have ads. Should you find that Youtube videos you are watching have ads, to make the video more enjoyable and eliminate the bothersome ads that pop up at the worst times go to the website View Pure, where you simply add the Youtube URL of the site you are watching and can watch the programs without interruptions. Previous Journeys Pages
Past Journeys Pages

Previous Resources
Past Resource Items